Wisconsin Weatheredge Stone Veneer
Wisconsin Weatheredge is a premium quality manufactured stone veneer that features the rich cream colors and aged beauty of weathered stone. Each rock has been precisely molded and cast from Wisconsin stone. The stones feature precise detailing in texture, color and style to replicate weathered cutaway stone.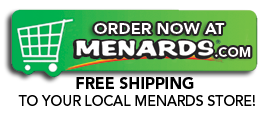 Applications for Stone Veneer
Cast stone veneer is lightweight and non-combustible; making it the ideal stone choice for new construction and residential or commercial remodeling projects including; interior walls, exterior walls, chimneys, fireplaces, wood burning stoves, landscape walls, wine cellars and pillars. It's the perfect product to give that stone wall effect without the expensive stone wall prices. Use the store locator to find your local Menards® where you can learn more about our products and stone veneer pricing and availability.
Coverage:
1 Box: 10 sq. ft
1 Pallet: 100 sq. ft
Suggested Accessory Colors:
Natural, Cream
Suggested Mortar Colors:
Cream, Tan
Check out more Weatheredge stone veneer panels or head back to the product gallery.
536 Main St,
Allenton, WI 53002-0126
Phone: (262) 629-9330
Fax: (262) 629-9982




|